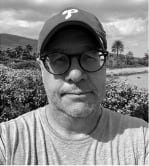 Mark Thurber - Soaring Whales Photography/Mark Thurber Fine Art Prints
Maui, Hawaii
Member:
Professional Photographers Of America
Artist Member:
Lahaina Art Society
Affiliated Artist:
Ocean City Fine Arts League
Aloha and Mahalo for your interest in my artwork.I am a fine art photographer specializing in museum quality photographic artwork. My goal is to show you views of our world in ways that you may not have seen before through my artwork. I only use the highest quality printing and mounting processes available for my artwork. Although the online images are engaging there is simply no comparison in seeing fine art in person.

Sign up for my email newsletter for information on my latest releases and exclusive offers.
I take great pride in making myself available to my customers.I'm here to help you find the perfect artwork for your home or office.I look forward to answering any questions you may have regarding print sizes, photo papers, acrylic glass fine art prints, metal fine art prints or any other questions regarding my work. My goal is to answer your inquire within 24 hours or less.