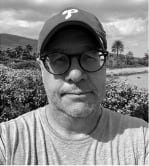 Mark Thurber - Soaring Whales Photography/Mark Thurber Fine Art Prints
Maui, Hawaii
Member:
Professional Photographers Of America
Artist Member:
Lahaina Art Society
Affiliated Artist:
Ocean City Fine Arts League
Aloha and Mahalo for your interest in my artwork.I am a fine art photographer specializing in museum quality photographic artwork.I grew up in southern New Jersey where going to the Jersey Shore especially Ocean City was a tradition with my family. That is where I fell in love with the beach and the ocean. I now live in Hawaii and hope I can bring the Aloha spirit to you wherever you are though my images and fine art prints.

Sign up for my email newsletter for information on my latest releases and exclusive offers.
I take great pride in making myself available to answer any questions you have regarding print sizes, photo papers, acrylic prints, metal prints or any other questions you have regarding my artwork. I'm here to help you find the perfect artwork for your home or office. My goal is to answer your inquire within 24 hours or less.